Read and booked directly, that's how the story starts. It takes me to the world's first offline village, a 5-day retreat that scientifically promotes a sustainably healthy approach to smart devices. Now I just land back in the digital world and reflect the experience.
It began with handing in my smartphone and ended with an unknown intense immersion with people who were initially strangers to me in the dreamlike world of a small Austrian mountain village called Gargellen. What at first felt strangely unfamiliar in our world, which has become so digital, turned into a very special experience, which resonates intensely beautiful today - one day after my return. Admittedly, on the first day I often found myself unconsciously grabbing at my pants to look for my cell phone. When all I found there was the hotel's oversized room key, which just happened to be the size of my smartphone, I had to smile. How intuitively we bridge moments of boredom by reaching for our cell phones. What according to behavioral psychology is cleverly done to get our attention, has the consequence for us that we need about 20 minutes after each cell phone scroll to continue where we were. Quickly calculable what happens, if we reach out for our cell phone 50 to 100 times or even more a day according to studies. We live in an attention economy in which our most important commodity has become time and attention. Dealing with this more consciously was the goal of my immersion in the Offline Village.
The description of the offline village, which sounded attractive to me, said that we were going on a journey of discovery, using the building blocks of movement, relaxation, crafts and culinary arts to promote sustainable resilience. So Day 1 started with an awareness hike where we focused on our senses (hearing, seeing, feeling, tasting), followed by a tour explaining local herbs and mushrooms and what they can do to stay healthy. I know this from my childhood before Chernobyl and always loved mushroom picking. Not only because we prepared them deliciously afterwards, but also because I liked the feeling of roaming through the forest and tracking down mushrooms. It was a mixture of curiosity, discovery and relaxation for me. This was also the case in the offline village, and in addition, our collected herbs and mushrooms were prepared for us in a regionally typical way. We enjoyed the visually and culinary impressive menu at a long candle-lined table in the middle of the wide valley at sunset and starrise. I could not have imagined a better start.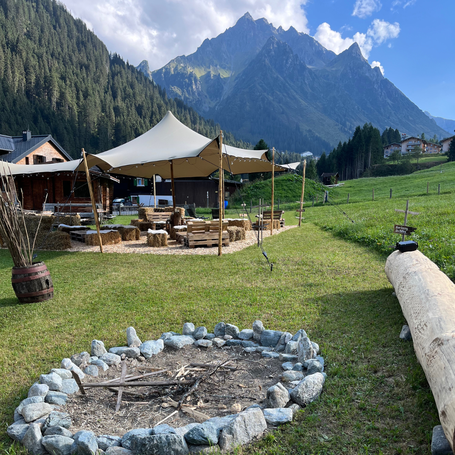 Day 2 included - without me anticipating it - a life-changing gift and experience for me. But one after the other: We started the day with an early morning hike in silence along a gorgeous stream. Since I love meditation in the morning after getting up, this was right up my alley...completely immersing myself in the magic of nature with all my senses. At the end of the hike, we ended up in a high valley where yoga mats were already waiting for those who had chosen yoga. Admittedly, yoga in nature is a lot more appealing than in your own four walls, but my highlight of the week followed now. With the help of world record holder in ice swimming Josef Köberl, we learned how to swim consciously and guided in an ice cold mountain stream. We had caught a sunny day, but the first contact with the ice-cold water made me cringe. Impossible said my mind. But I learned that our skin cells cannot distinguish between warm and cold in communication with our brain. Josef then showed us how we can learn to love ice bathing with conscious breathing and a very slow way of adjusting to the temperature. Just so you know, I did it again right away on the last day of the offline village and it had the same effect again: a deep feeling of happiness coupled with a deeply relaxing shiver after bathing. I was in the mountain stream for just under 30 minutes and partly had the feeling of bathing in a thermal spring. What else is possible if my brain can be trained and focused like this?
Day 2 included a creative hike in which we reflected on our relationship with nature, animals and plants. Intuitive writing was as much a part of it as creative painting and a conscious change of perspective. We sometimes act as if we are independent of nature, but the opposite is true: we are a part of it and live, for example, only 1% of our time as humans on this earth in buildings. The rest we have lived in nature and in harmony with it. An exciting question, therefore, was what, for example, a river would say about us? Wouldn't it only be consistent, if nature is equal regarding all rights, which we also have? This would turn it from a mere object (as regulated in Article 20a of the German constitution) into a legal subject that can independently claim, sue for and enforce its rights. Some countries are already setting this good example.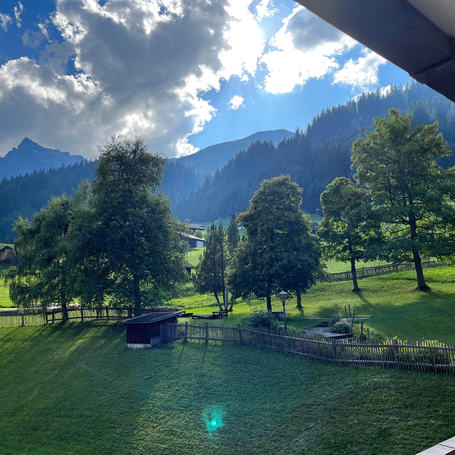 During the week we had exciting impulses from researchers and experts on the topic of digital detox and resilience, among others by the scientists from ISAG, the Institute for Sports, Alpine Medicine and Health Tourism. Addtionally Anna Miller read from her book "Connected" and gave us many tips along the way. I took away that our digital behavior has a lot to do with our real life. If we feel connected, maybe we would look less for connection in the digital space. In the offline village, I noticed that I had more time to really feel life. The conversations were deep and honest very quickly, without the usual masks. It could have been because of the people, but in my opinion it was because we were less distracted, more present. We had each other, had time and curiosity to find out what life means in the here and now, who we are without being online. I can say today, on the day I returned, that this feeling continues to carry me: it is a full, deeply relaxed feeling of happiness, physiologically probably linked to the release of dopamine and serotonin, which we consciously activated through the offline village activities.
The sporty conclusion was a small hike including a sophisticated climbing experiences with the help of ropes in a nearby gorge. Admittedly, it was more demanding than I had thought, because climbing up a wall on a leash challenged me more psychologically than physically. What happens when I get out of step...how far do I fall? All the nicer was the feeling of having made it. In the afternoon there was time to reflect on what we had experienced in our offline journal, and then to let the week come to an end around the campfire with roasting bread in the fire, guitar sounds and nice conversations. There was again an exciting impulse from Gerhard Moser with the question of whether there is a strategy to move body, mind and soul with simple methods to peak performance?
Gerhard first explains to us the dilemma of our time. Our body has found good answers to the known stressors like heat, cold, noise or hunger. These were singular, temporary and physical in nature. In contrast, the stressors of our current times, such as our excessive digital lives, are multifactorial, not temporal, and psychological. As a result, our immune system is activated 24/7. Now, considering that our brain and immune system each consume 40-50% of our energy, this explains the challenge of our 21st century. We need more energy and that at the expense of other organ structures like our heart, kidney or lungs. One "trick" of faster energy production of our body is to "tear open" the intestinal villi, a phenomenon known as leaky gut syndrome. However, this opens up our body's 1st "line of defense". This syndrome along with the overtaxed immune system is the cause of many diseases of our century.
The second part of the talk reasoned backwards about what and why we experienced the week the way we did. Reducing stressors, such as the blue light radiation from our cell phones and laptops, combined with moderate daily exercise of at least 30 minutes in nature are the best answers. Many other tips are well known and easily doable: Drink 0.5-0.7 liters of water in the morning after getting up and 1 liter per 25 kg of body weight the rest of the day, no coffee 10 hours before sleeping and no eating 2 hours before, acquire blue light filtering glasses, practice coherent breathing (inhale for 5 seconds, exhale for 5 seconds), chew a lot while eating, exercise briefly before eating, and take cold showers or even baths. All not that complicated. And with my new love for ice bathing, I'm right on trend.
From a tourism point of view, I find the offline village very exciting from several perspectives. It is attractive especially for rural and sparsely populated areas, which often have many challenges, and at the same time it increases the attractiveness for jobs in these areas. What impressed me most, however, was how it inspired me as a participant to think more consciously about my digital behavior. And not dogmatically, but inspiringly, precisely because I experienced it live. I'm sure tourists would feel the same way about this experience.
We live in a crucial time when much is at stake. How will we develop or further destroy ourselves and our environment. That's where it helps if we are less online and more consciously offline. Because life happens when we scroll less and live more. So we also have more time and above all awareness to think about the really important questions and find solutions together. Or expressed in the words of Linda Meixner, founder of the Offline Institute: "If our brain only has a certain limit of attention, what happens to us when our lifes and daily business is constantly fragmented and interrupted by the smartphone? We no longer feel ourselves as a result. Our needs, desires and goals fall by the wayside. Consequently, we live life less intensively and vividly. This affects everything we do."
I fully enjoyed it and now ask myself what and how I can better integrate this into my everyday life. As Anna Miller said so well, "The one who climbs a mountain has only been to the top and has scaled the summit when he is back at the bottom." So we're not more aware of digital consumption until we can live it not just in the offline village, but in our daily practice.